What is Covid-19?
According to the Government of Canada, "Coronaviruses are a large family of viruses. Some cause illness in people and others cause illness in animals. Human coronaviruses are common and are typically associated with mild illnesses, similar to the common cold. COVID-19 is a new disease that has not been previously identified in humans. Rarely, animal coronaviruses can infect people, and more rarely, these can then spread from person to person through close contact."
What are the Symptoms?
Those who are infected with COVID-19 may have little to no symptoms. You may not know you have symptoms of COVID-19 because they are similar to a cold or flu.
Common symptoms may include:
cough
fever
difficulty breathing
pneumonia in both lungs
In severe cases, infection can lead to death.
Symptoms may take up to 14 days to appear after exposure to COVID-19. This is the longest known incubation period for this disease.
Recent evidence indicates that the virus can be transmitted to others from someone who is infected but not showing symptoms. This includes people who:
have not yet developed symptoms (pre-symptomatic)
never develop symptoms (asymptomatic)
---
Requirements in the Workplace
Under the Occupational Health and Safety Act an Employer must, "take every precaution reasonable in the circumstances for the protection of a worker" R.S.O. 1990, c. O.1 s. 25(2)(h). This means we must work diligently to identify risk, implement practices and controls, and provide training to workers to ensure their health and safety, at work.
Risk Assessments
A risk assessment is not about creating huge amounts of paperwork. Instead, its purpose is to create an understanding of how your workers may be affected and to identify reasonable measures to control those risks in your workplace. Your risk assessment will help determine whether you've covered everything.
If you have multiple work locations, be sure to do a risk assessment for each workplace. The hazards, and the risks they pose, may be different from place to place.
I've Assessed Our Risk, Now What?
Armed with the information collected, practices, procedures and controls can be developed to protect workers and the public. This may include developing and implementing new operational procedures and policies on hygiene and social distancing; installing barriers, signage and washing facilities; providing personal protective equipment; or conducting body temperature screening of workers.
---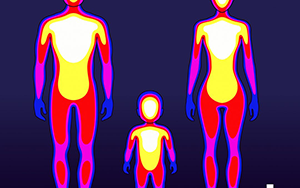 Body Temperature Screening
One of the primary symptoms consistent with COVID-19 is an elevated body temperature of above 38˚C (100.4˚F). Some workplaces have started screening their employees using touchless temperature scanners in order to determine whether they may enter the employer's workplace.
Temperature testing can be deemed controversial as a method for detecting COVID-19, as it is possible for individuals to have elevated body temperatures even if they are not ill. However, thermal testing is non-invasive, produces objective and instant results and may identify one of the primary symptoms of COVID-19. If an employer decides to implement temperature screening, it may be a low-cost method of limiting the chances of a workplace outbreak.
Privacy Concerns
There is no clear statutory privacy-related concerns with respect to implementing and conducting thermal testing in seven Canadian provinces, including Ontario.
The Ontario Human Rights Commission has a dedicated page for information relating to COVID-19 and human rights. To discover more about testing in these specific circumstances, please visit: http://www.ohrc.on.ca/en/our_work/COVID-19
Implementing Temperature Screening
Should you decide to proceed with thermal testing in your workplace, consider the following.
Testing should be conducted safely, effectively, and in accordance with privacy standards.
If possible, have a third party administer temperature screening on employees. If that is not an option, ensure that the person responsible for performing temperature screenings is properly trained to use the touchless temperature scanner and understands what factors aside from COVID-19 could influence its readings.
The tester must be provided with personal protective equipment (PPE), including: surgical gloves, face masks, and a lab coat or disposable coat. Alcohol-based hand sanitizer must be accessible in areas where testing is conducted.
The tester must ask employees for consent to having their temperatures tested. If an employee refuses to be tested, he or she will not be admitted to the workplace, on the basis that their attendance could jeopardize the health and safety of others.
The tester should ask each employee who enters the workplace whether he or she is exhibiting any flu-like symptoms (coughing, shortness of breath, fever) or is otherwise feeling unwell. The tester should also ask whether the employee has had close contact with someone in the past 14 days who has been diagnosed with, or is presumed to have, COVID-19.
Where possible, employees should be tested and asked the screening questions in a private or semi-private area, out of the sight and earshot of their colleagues, contractors or other visitors.
Test results must not be collected, recorded, stored, used or disclosed for any purpose aside from determining whether the employee should be permitted to enter the workplace. The additional privacy best practices, identified above, should be followed.
Employees with temperatures at or above 38˚C (100.4˚F), or who answer "yes" to any of the screening questions, should be advised to return home, self-isolate, and call their regular doctor or local public health authority to discuss their symptoms, treatment options, quarantine requirements, and for an assessment regarding the next steps.
---
Training
With the new hazards present in the workplace, new practices and procedures being established, and new controls and personal protective equipment being implemented, a worker must be provided the training to understand to how to work safely under these new conditions, practices and with new controls and equipment. This training can be provided online, in-person and through a variety of other methods. Regardless of how the training is provided, it is reasonable to say training is a key component in protecting the wellbeing of a worker.
Aceis is Here to Help
In these challenging times Aceis Group is here to help your business assess risk, develop controls, screen workers, and provide training.